Leduc Family & Criminal Lawyers
Finding the right lawyer for your unique situation can be intimidating, but it doesn't have to be. Our team members have spent years practicing in a broad range of legal fields, so we have the knowledge and expertise to find the best solution for you. Our law team is based in Sherwood Park but travels throughout Alberta, defending our clients' best interests.
Kurie Moore Law Group delivers strategic legal advice and services for both family and criminal law issues professionally and cost-effectively.
At Kurie Moore Law Group, we take the time to fully understand each unique matter presented to us by a client in need of assistance. We want our clients to understand their options and make well-informed decisions regarding the progress of their case. Together with our clients, we strive to get the best result possible, whether through trial or settlement, mediation or arbitration, litigation, or dialogue.
Our Family Law Services
We support our clients in many traditional family law areas, including separation and divorce; property and debt division; child and spousal support; guardianship, parenting time and mobility; and cohabitation, marriage, and separation agreements.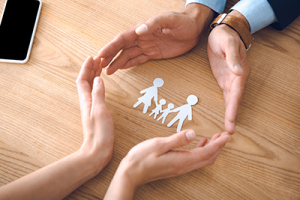 Child Custody and Guardianship
Our team is committed to assisting with your child custody & guardianship issues in the Leduc area.
Child Support Lawyers
Our family lawyers are committed to assisting with your child support and extraordinary expenses. We always put the children's needs first and ensure that they are taken care of while working towards a lasting resolution for you.
Caring Divorce Lawyers in Sherwood Park
Our family lawyers are dedicated to helping you resolve your divorce issues and, if need be, navigate the Court system, ensuring that you do not feel lost or overwhelmed with the legal process.
Parenting, Access, and Visitation
Maximizing time with your children is a common issue that can arise between parents during a separation. The Kurie Moore Law Group family law team is committed to assisting you with applying for access and assisting with changes to your parenting arrangements.
Separation Agreements
Our team understands that separating from your spouse or common-law partner can be stressful. When going through a separation, Kurie Moore Law Group's experienced family law team can help draft an agreement that is fair and is enforceable in court.
Spousal Support Lawyer In Leduc
Our team of lawyers is here to help you determine if you will get or pay spousal support, how long you will be paying or receiving spousal support, and the amount of spousal support you may pay or receive.
Our legal team has decades of experience in helping individuals through the family law legal system. Our lawyers can provide counsel through all phases of the process.
Our Criminal Law Services
Our criminal lawyers are committed to the defense of individuals in the Leduc area that are accused of serious criminal and regulatory charges by offering sound, straightforward, and thorough legal advice.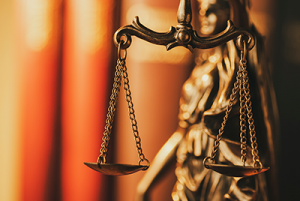 Experienced Assault Lawyer in Leduc
Kurie Moore Law Group's criminal team understands the law and takes your charges seriously. Our team has a results-driven approach when defending you from assault charges.
DUI & Impaired Driving Lawyer in Leduc
The consequences of an impaired driving conviction can be severe, but with Kurie Moore Law Group advocating for you, you will increase the odds of a successful defense.
Drug Offenses
Kurie Moore Law Group's law firm knows your rights and has experience defending the full range of offences under the Controlled Drugs and Substances Act.
Bail Hearings
Kurie Moore Law Group's criminal law team has successfully advocated for numerous clients at both bail hearings and bail reviews in front of the Court of Queen's Bench.
Defending your rights is not just about understanding the law. We believe it is also essential to understand your particular circumstances, your history, and your priorities. We will take the time to meet with you and listen to your story so we can better represent you.
If you have been charged with a criminal offence in Leduc, you need legal advice. Our team of Leduc criminal lawyers has defended thousands of criminal cases at all levels of court in Alberta.
Things to do in Leduc
Leduc is a charming city in Alberta, Canada with plenty of activities and attractions for visitors. Here are some of the top things to do in Leduc:
Visit the Leduc #1 Energy Discovery Centre – this interactive museum offers a fascinating look into the history and science of Alberta's oil and gas industry.
Take a stroll through Telford Lake and enjoy the beautiful scenery – this lake offers walking trails, picnic areas, and a beach, making it a great place to relax and enjoy the outdoors.
Explore the Black Gold River Valley – this scenic valley offers hiking and biking trails, as well as opportunities for bird watching and wildlife viewing.
Take a tour of the Alberta Aviation Museum – this museum showcases the history of aviation in Alberta and features a variety of aircraft and exhibits.
Enjoy a round of golf at the Leduc Golf Club – this 18-hole golf course is a popular destination for golf enthusiasts of all skill levels.
Catch a movie at the Leduc Cinemas – this local cinema offers a variety of movie options and is a great spot for a night out.
Attend a concert or event at the Maclab Centre for the Performing Arts – this state-of-the-art theatre hosts a variety of performances throughout the year, from live music to theatre productions.
Explore the William F. Lede Park – this park features a variety of recreational facilities, including a skate park, tennis courts, and a spray park, making it a popular destination for families.
Take a day trip to nearby Edmonton – Leduc is located just a short drive from Edmonton, which offers a variety of additional attractions and activities, including shopping, dining, and cultural experiences.
Discover the local art scene at the Leduc Art Walk – this annual event features a variety of art displays and exhibits throughout the city, showcasing the work of local artists.
Leduc Courthouse
Provincial Court House Leduc
4612 50 St.
Leduc, AB
Phone: 780-986-6911
Fax: 780-986-0345
CRIMINAL SITTINGS
Every Thursday at 9:30 am
Every 1st and 3rd Wednesday at 9:30 am
FAMILY SITTINGS
Every 2nd and 4th Friday at 9:30 am
Kurie Moore Law Group's highly skilled and passionate lawyers are proud to offer our criminal, family law and wills & estates lawyer services in Leduc.