Your Edmonton Family Law Team: Experienced. Reasonable. Caring.
If you are starting the steps towards a divorce or need any help managing a family legal dispute, you have come to the right place. All of our family lawyers in Edmonton are committed to resolving your disputes as quickly and as amicably as possible. We will represent you with integrity and respect throughout this challenging time.
When we're mediating your divorce, we will take into account your needs and interests, and we will work to make sure you get the best possible outcome.
We are a team of family lawyers in Edmonton committed to helping clients navigate their way through difficult family law matters. We provide professional legal counsel and representation in all matters related to separation and divorce, property division, spousal support, guardianship, parenting time, and separation agreements.
Why Choose Us: We Focus On Each Client's Unique Needs
We know that each client has a unique situation when they come to see us, and no two cases are the same. We know that separation and divorce are some of the most stressful and emotionally draining experiences a person will go through in their life.
We start by getting to know your unique circumstance. You know what's perfect for your family. Once we understand what you need, we go to work finding the best legal solutions for your situation.
We will outline the most effective ways to resolve your unique situation to get you and your family the best outcome. Dispute resolution does not have to go through the courts. Our impartial professionals can assist in dispute resolution, including negotiation, collaboration, and mediation. Our goal is always to find the very best solution for you and your family with the least amount of stress and cost.
Areas Of Family Law In Edmonton We Can Help With
We strive to make our family law services as supportive, fair-minded, and cooperative as possible while fostering mutual respect, cooperation, and teamwork.
Divorce
We know divorce inside and out. At Kurie Moore Law Group, our family lawyers have extensive experience guiding married and common-law couples through the details of ending a relationship.
We understand the hardships that may come with divorce, including the financial and emotional tolls. Our goal is to ease some of that burden by helping our clients make well-informed decisions about their future.
Child Custody
Deciding where your children will live, who will see them, and who will make decisions about their upbringing are some of the most significant and difficult choices you will have to make.
There are many things to consider when making decisions about custody, and the court will take into account all of your circumstances. The court may decide to award sole custody or joint custody to both parents.
Our team offers assistance with child custody and guardianship matters for mothers and fathers. We know that making the correct choices concerning the child's upbringing is a vital concern, and we'll do everything we can to aid you during this process.
At Kurie Law Firm, our goal is to help you make the best choices for your children in a productive and amicable way.
Child Support

There are laws in place that mandate child support for children. Children generally require parental support from the parent who spends the least amount of time with them. The funds are primarily used to help cover the costs of caring for the child.
Even if your child spends an equal amount of time with each parent, the parent who earns more may still be required to pay a child support package.
There are other factors that can change the amount of child support a judge might order. For example:
Special or extraordinary expenses, like daycare and medical expenses

Whether the parenting arrangement is for shared custody or split custody

Financial difficulties or hardships that make it hard for the payor parent to provide child support
Other Areas Of Family Law We Can Help With In The Edmonton Area
Our family law expertise also extends to these areas of practice:
Division of Property

Maintenance Enforcement Program (MEP)

Separation agreements

Spousal support

Independant Legal Advice

Limited Legal Services/Limited Scope Retainers/Unbundled Services
No matter what challenges you are facing or what legal trouble you're dealing with, we will use our experience and empathy to help you find solutions, minimize negative impacts on your life and those close to you, and make a fresh start.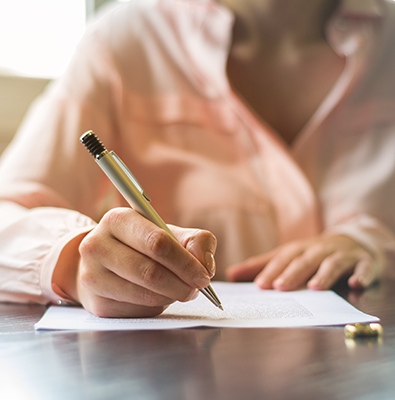 Get Your Life Back. We Can Help.
When you meet with one of our caring and compassionate family lawyers, we will help you evaluate your current situation and present your legal options.  We can help with all legal matters relating to divorce and separation, property division, spousal support, guardianship, parenting time, and separation agreements.
Please contact us today to make an appointment.